More than 147,000 refunds sent to students affected by the school's deceptive ads
The Federal Trade Commission is sending payments totaling nearly $50 million to more than 147,000 University of Phoenix (UOP) students who may have been lured by allegedly deceptive advertisements.
The refunds stem from a lawsuit the FTC filed against UOP alleging that it used deceptive advertisements that falsely touted its relationships and job opportunities with companies such as AT&T, Yahoo!, Microsoft, Twitter, and the American Red Cross. The FTC also alleged that UOP's advertising gave the false impression that the online school worked with those companies to create job opportunities for its students and tailor its curriculum for such jobs.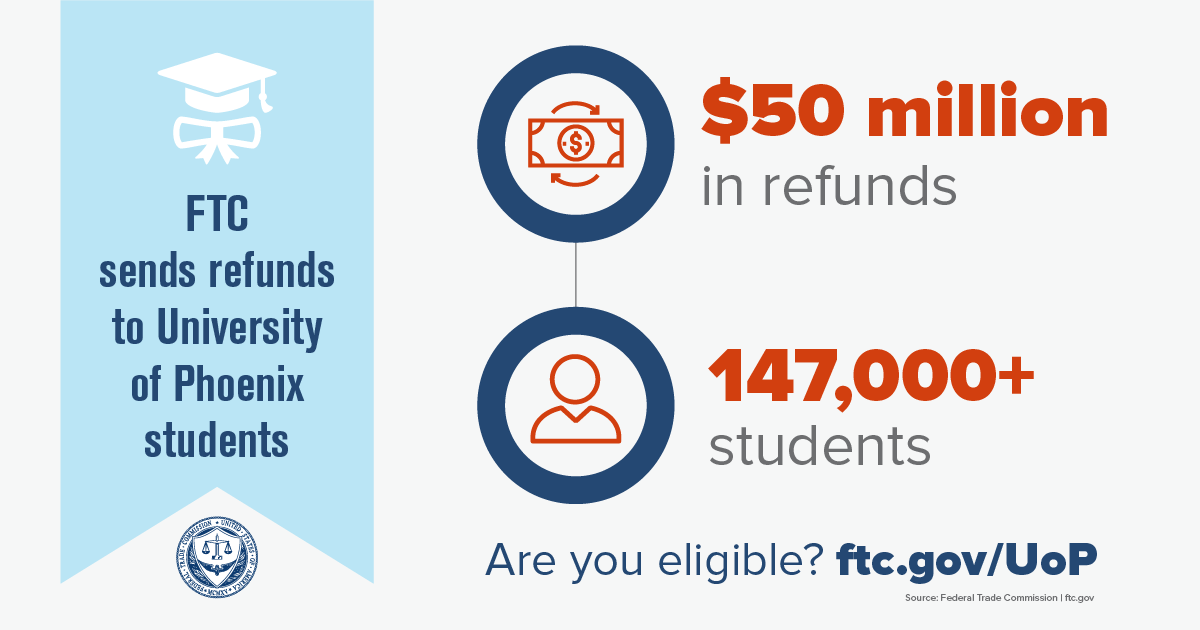 In addition to the nearly $50 million in direct payments for some students, the $191 million settlement includes $141 million to cancel unpaid balances owed directly to the school by eligible students. Other debts, such as federal and private student loans or military benefits, are not affected by this settlement. If you have questions about debt canceled by the school, contact UOP at UOPXFinance@phoenix.edu(link sends e-mail) or 1-800-333-5305.
The FTC is mailing 146,804 checks and issuing 677 PayPal payments to students who:
first enrolled in a masters, bachelors, or associates degree program at UOP between October 15, 2012 and December 31, 2016;
paid more than $5,000 with cash, grants, federal and private student loans, or military benefits;
did not get debt cancellation as part of this settlement; and
did not opt out of UOP providing the student's contact information to the FTC.
People who get a refund via PayPal will have 30 days to accept the payment. For more details about the PayPal payment process, please read the related FAQ. People who receive checks should deposit or cash their checks within 90 days. The FTC never requires people to pay money or provide account information to get a refund payment or to cash a refund check. If recipients have questions about the refunds, they should contact the FTC's refund administrator, Rust Consulting Inc., at 1-877-310-0487.
The FTC's interactive dashboards for refund data(link is external) provide a state-by-state breakdown of FTC refunds. In 2020, FTC actions led to $483 million in refunds to consumers across the country.
The Federal Trade Commission works to promote competition and to protect and educate consumers. You can learn more about consumer topics and report scams, fraud, and bad business practices online at ReportFraud.ftc.gov. Like the FTC on Facebook(link is external), follow us on Twitter(link is external), get consumer alerts, read our blogs, and subscribe to press releases for the latest FTC news and resources.